FR08 Facial Recognition Access Control

Accuracy, Reliability, Versatility
FR08 is biometric face recognition access control terminal equipment, equipped with 8 high-definition LCD screen, convenient for the use of personnel to use, 
Equipment can be equipped with 4G , UPS. battery,, optional RFID card reading scanner, 4G, codc, for video intercom or voice intercom, etc. 
FR08 attendance management system using face recognition sdk is free of charge. Face terminal software recognition different versions can be controlled by the cloud version and cloud version. A backend software device to achieve the function of one terminal running multiple devices. Face recognition access control part function can register personnel information, view personnel peer swipe card information, arrange attendance report for employee record, set salary according to attendance report.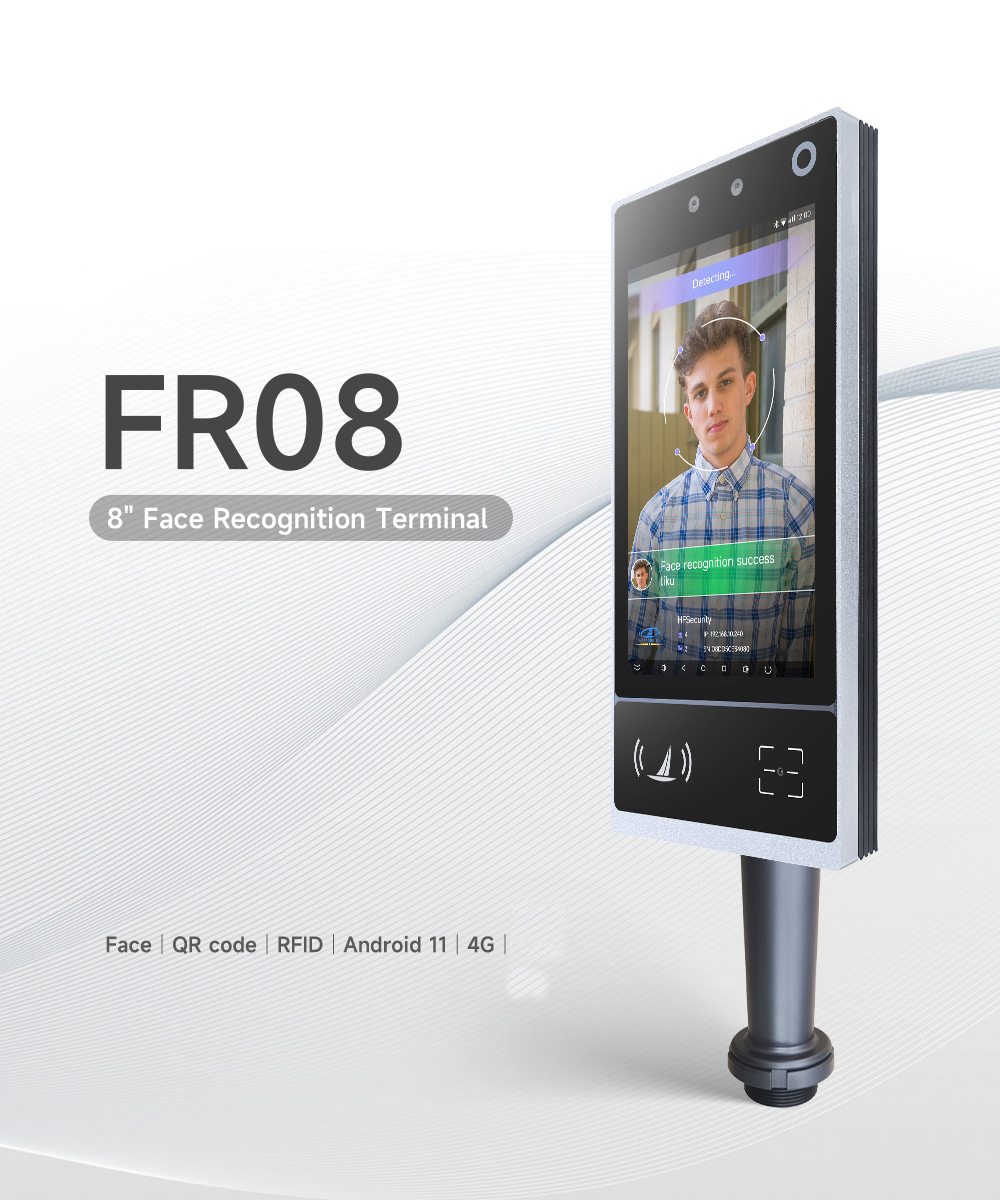 Face Recognition Terminal
FR08 is an 8 inch face recognition terminal,android 11 system, with face recognition function, QR Code function, RFID function, 4G function
FR08 8 inch face recognition device has multi function, such as face recognition, qr code verification, RFID/Optical, Access Control, Android 11, Built in microphone, optional ups battery 4G can also optional, 8 inch screen, attendance software, multiple language support. IP67 customized
Cloud Storgae; Local Storge;
2GB+16GB;
Local 20000 face database
FR08 8 inch android 11 os system
Powerful Time and attendance Management software
such as:
Employee Management;
Visitor Management;
Blacklist Management;
Attendance Record;
Passage Records;
Capture Records;
Attendance Setting;
AD settings
Questionnaire Settings;
By purchasing face recognition access control device,
you can get
1.AI CPU, Android 11 OS
2. True 2 million binocular camera, wide dynamic camera, recognition under strong light
3. Fast face recognition speed, face recognition less than 0.2s
4 . Live detection, dynamic binocular anti-counterfeiting, eliminate all kinds of photos and videos on various deception carriers are support 5. Available face, card, verification, face + card combination verification
6. 8 inch touch screen
7. Provide TTS, Google voice package, Chinese, English voice broadcast name
8. Chinese, English and other 20 languages, voice can use
9. Support desktop version of the software, cloud platform, view youtube link to use the software video
10. Support for night LED fill light and infrared does not light
11. Support two-dimensional code recognition, with the cloud platform to achieve the visitor function
12.4G, TCP/IP, wireless network to achieve data upload and download
13. Rich tail line interface, able to achieve a variety of functions
14. Equipment support UPS power supply function, not afraid of sudden power failure can not use the situation
Face recognition terminal equipment competition point
1. Factory direct sales Huifan technology 16 years of professional biometric experience, therefor 8000 square meters of factory can be produced independently, factory supply, reasonable price
2. Quality assurance A wide range of products, according to the need to choose 3. Product processing, quality assurance
Are you still putting up with these problems?
Unable to install and use
Slow recognition, blocked entrance and exit
Low recognition rate, often wrong
Poor recognition at night
No problem after sale, no one to deal with
HFSECURITY fingerprint scanner offers an unparalleled level of security and convenience for a wide range of applications. With its advanced features and compatibility with multiple operating systems, it is a versatile and essential tool for any organization or individual who values security and privacy.
| Specification | |
| --- | --- |
| Screen Size | 8 inch , full view IPS LCD |
| Protection Level | IP67 |
| Resolution | 1024*600, brightness 350cd |
| Power Consumption | DC12V |
| Electromagnetic Radiation | No frequency point exceeds the standard |
| Working Humidity | 10%-90% |
| Static Humidity | 4K/8K |
| Working Temperature | 15-30℃ |
| Power Supply | 5W Max |
| OS | Android 11 |
| Hardware | |
| RAM | 2GB |
| ROM | 16GB |
| ISP | Built in dual way ISP |
| Patch Light | Infrared LED fill light |
| Network Module | Support wired 2.4G wifi, 4G optional |
| Battery (optional) | Optional battery can be added for outdoor use |
| Function | |
| Local off line use | local 2W face database |
| 1:N face recognition | Support |
| 1:1 | Support |
| Stranger Detection | Support |
| Recognition Distance Setting | Support |
| Device Remote Upgrade | Support |
| Device Interface | Device management, authority management, Personnel/photo management, record query etc |
| Camera | |
| Resolution | 2.0M pixels |
| Type | RGB+ir |
| Aperture | 2.0mm |
| Facial Length | 50-150CM |
| White Balance | Automatic |
FR08 Biometric terminal PRODUCT FEATURES
Chongqing Huifan Technology Co., Ltd. is a Chinese company that provides biometric solutions and related technologies. As a biometric solution provider, they offer a range of products and services related to identity verification and access control.

We products, services, and technologies. , it is common for companies in the biometric solutions industry to offer a variety of biometric technologies, such as fingerprint recognition, iris recognition, facial recognition, voice recognition, and more.

HFSECURITY offer solutions for specific industries or applications, such as time and attendance tracking, payment authentication, personal identification, and others.

If you have any specific questions about Chongqing Huifan Technology Co., Ltd.,you can visiting our official website or contacting us directly for more information.
Not sure if we are a good match for you or which style you want to buy? We can send your more application. For more information, get in touch.
Not sure if we are a good match for you or which style you want to buy? Free trial software are available. For more information, get in touch.
Download Fingerprint Scanner Brochure