FR07 Facial Recognition Access Control

Accuracy, Reliability, Versatility
Face access control deviceFR07 is a product under the category of Huifan dynamic face attendance access control, this machine uses the world's leading facial algorithm company Kuang Shi's face facial 3D algorithm, with a high-speed processor. 
Efforts to achieve the standard of international first-class industrial design, whether from the appearance or hardware, software, we are pursuing to have the ultimate quality. 
FR07  is a 7-inch facial fingerprint recognition access control machine developed by Huifan Technology, FAP10 fingerprint head, data 1:1 recognition pairing, Face++ facial algorithm, facial precision recognition.
Face Recognition Terminal
FR07 is an 7 inch face recognition terminal,android 11 system, with face recognition function, QR Code function, RFID function, 4G function
FR07 7 inch face recognition system device, wide dynamic range;
Face Recognition dual camera;
Infared Camera:Accuracy rate>99.99%;
RGB Camera: Identification Speed<0.1 sec
Gree Led: Allowed to pass;
Red Led: Strange Detection;
Photo Detection;
Video Detection
FR07 7 inch face recognition can support NFC Function
FR07 7 inch android 11 os system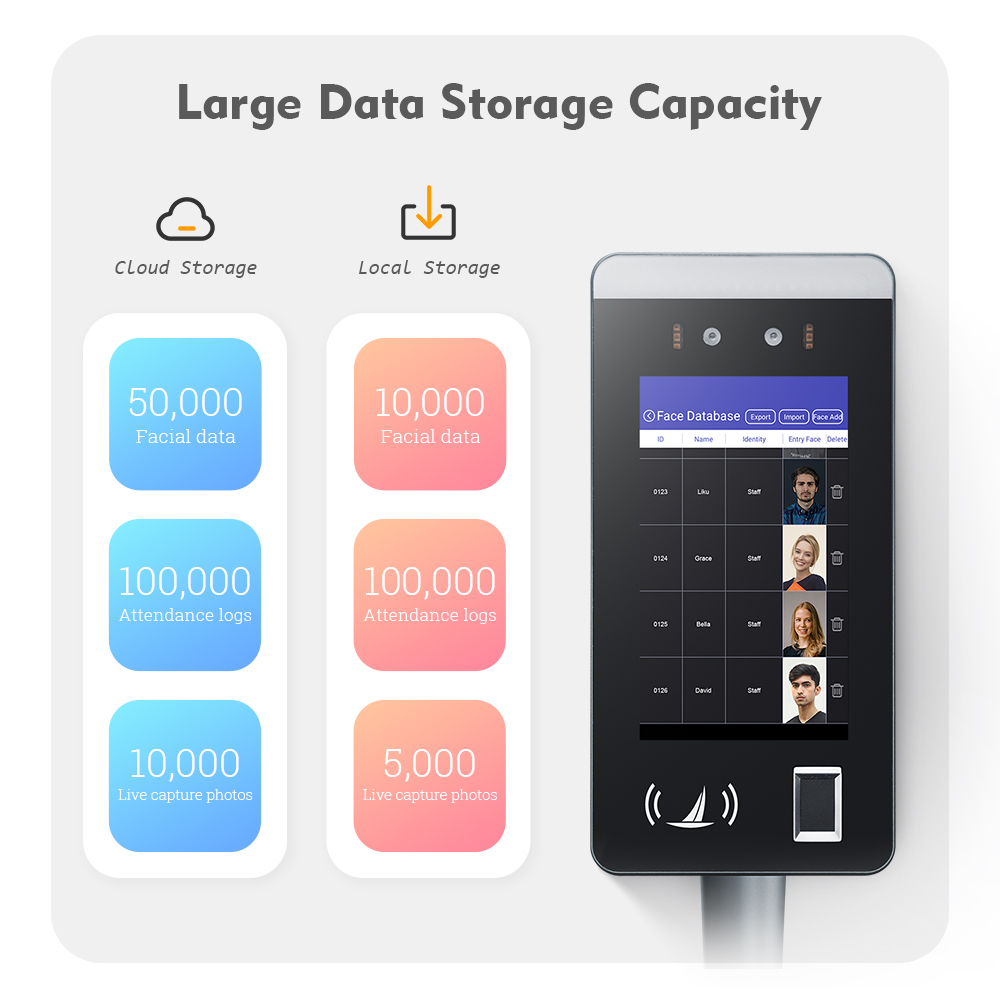 Cloud Storage;
Local Storage;
Powerful Time and attendance Management software
such as:
Employee Management;
Visitor Management;
Blacklist Management;
Attendance Record;
Passage Records;
Capture Records;
Attendance Setting;
AD settings
Questionnaire Settings;
Face access control device fr07 fast face recognition, recognition distance, binocular dynamic camera, voice broadcast, full-featured access control functions and other features. Based on these excellent features, FR07   can be used in face access control, campus face security channel, staff attendance, conference attendance, entrance/exit identity check, gate transformation and other application scenarios.  
Face recognition access control terminal FR07 product Features as follows:
Live recognition
50,000 faces
Built-in card swipe
Access Control Attendance
Traditional attendance machine pain point analysis
Punch card: Traditional swipe card is easy to punch card on behalf of
Non-contact identification; security identification rejects cross-infection
Low efficiency: Traditional time and attendance is slow and inefficient
Fast face recognition: The recognition speed is <0.3 seconds, which really achieves the function of fast face recognition, and also solves the purpose of forgetting to bring the card, thus affecting the attendance, which really improves the efficiency of attendance
face recognition access control attendance system specification
3D face algorithm
Leading AI algorithm, in vivo recognition, can solve photo deception Artificial intelligence era, through the camera to collect video stream, in the image through the 3D algorithm for face portrait recognition, face recognition
Binocular camera:
FR07 face access control use 7-inch IPS full-view display, infrared RGB binocular camera, can achieve live recognition + recognition at night in the state of total darkness, refuse photo punching, refuse video punching; 200W wide dynamic lens, the device does not need white light fill light, in the backlight, dark light, no light environment face recognition effect is not affected; face terminal using super bright LED display, to ensure that in the total dark environment also can be quickly recognized
Super voice:
real human voice announces the name, the voice can be adjusted in size Super bright LED light, super bright fill light, clear recognition of face in the dark light
Dynamic recognition:
support dynamic recognition If you want to know FR07  software "SmartPass"m you check youtube links for more video.   sd
HFSECURITY fingerprint scanner offers an unparalleled level of security and convenience for a wide range of applications. With its advanced features and compatibility with multiple operating systems, it is a versatile and essential tool for any organization or individual who values security and privacy.
Screen Size
7-inch, full-view IPS LCD
Resolution
1024*600,brightness 350cd
Dimension
261*124*20mm

Weight
1.9KG
Installation Method
IP55 supports semi-outdoor use (no rain)
Power Consumption
DC12V
Electromagnetic Radiation
No frequency point exceeds the standard
Static Electricity
4K/8K
Working Humidity
10%-90%
Working Temperature
15-30℃
Power Supply
5W MAX
Protection Level
Wall mounting, counter-top bracket, gate mounting, floor standing bracket
OS
Android 11

FUNCTION
Recognition distance
0.5m-3m

Recognition time
<0.2s
Local off-line Use
Local 5W face database
1:N Face Recognition
Support one in 10,000 false,Recognition rate, 99% pass rate
1:1
Support optional card swipe module,
ID card module can realize 1:1 face comparison
Stranger Detection
Support
Recognition Distance Setting
Setting adjustable
Device Remote Upgrade
Support
Device Interface
Device management, authority management, Personnel/photo management, record query, etc.
CAMERA
Resolution
200W
Type
RGB+IR

Aperture
2.0mm
Focal Length

50-150CM

White Balance

Automatic
INTERFACE
Audio
1*Audio Output
USB Interface

USB 2.0 micro*2
Serial 232

2*RS232 interface
Wiegand Interface
1*Wiegand input, 1*Wiegand output, 2.5mm*2PIN
OTG Interface

1*OTG interface
HARDWARE
CPU
Quad-core 2.0GHz
RAM
2GB
ROM
16GB

ISP
Built-in dual-way ISP
Patch Light

Infrared, LED fill light
Network Module

Support wired, 2.4Gwifi, 4G (optional)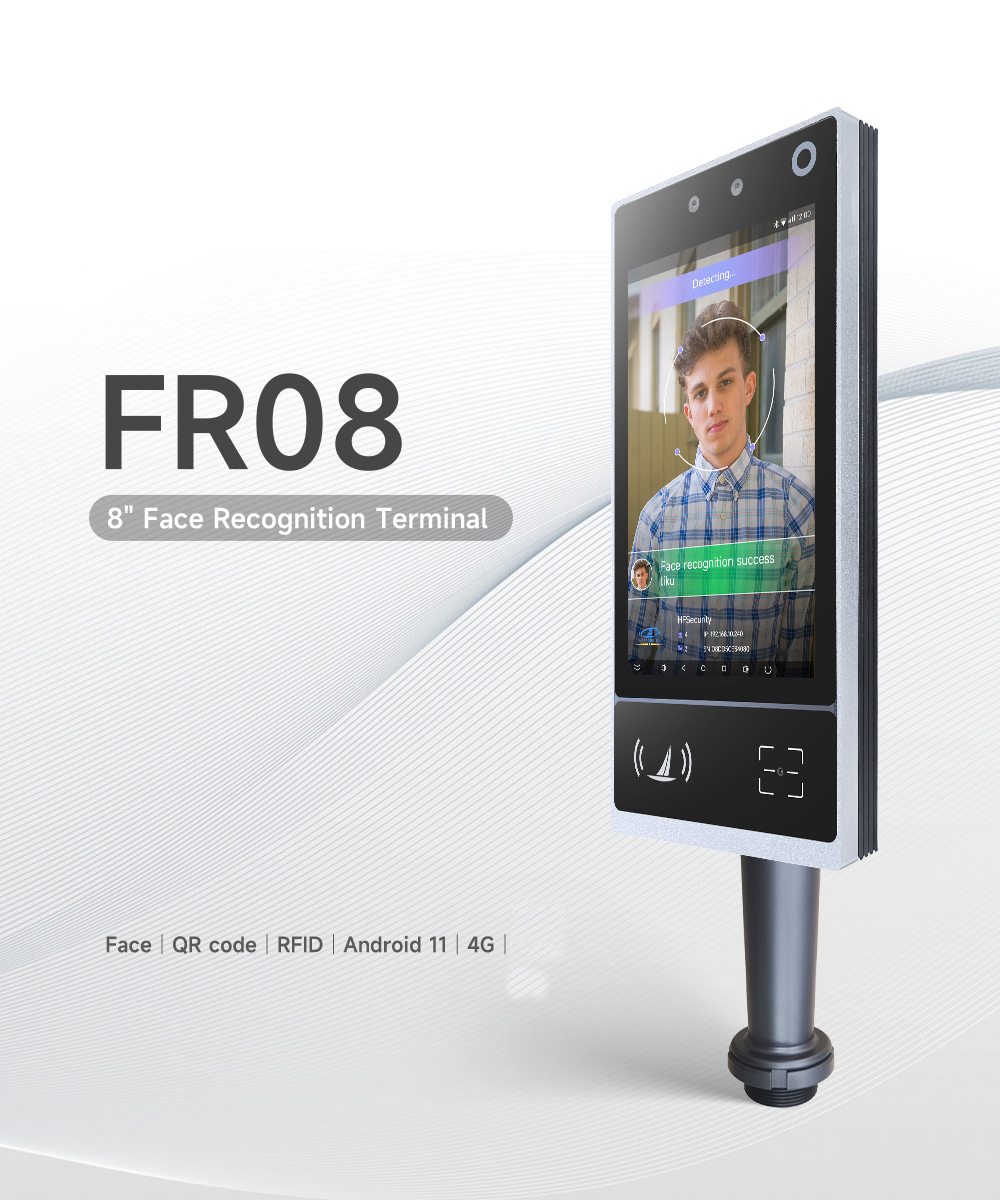 FR07 Biometric terminal PRODUCT FEATURES
Chongqing Huifan Technology Co., Ltd. is a Chinese company that provides biometric solutions and related technologies. As a biometric solution provider, they offer a range of products and services related to identity verification and access control.

We products, services, and technologies. , it is common for companies in the biometric solutions industry to offer a variety of biometric technologies, such as fingerprint recognition, iris recognition, facial recognition, voice recognition, and more.

HFSECURITY offer solutions for specific industries or applications, such as time and attendance tracking, payment authentication, personal identification, and others.

If you have any specific questions about Chongqing Huifan Technology Co., Ltd.,you can visiting our official website or contacting us directly for more information.
Not sure if we are a good match for you or which style you want to buy? We can send your more application. For more information, get in touch.
Not sure if we are a good match for you or which style you want to buy? Free trial software are available. For more information, get in touch.
Download Fingerprint Scanner Brochure