There are many kinds of biometric feature technologies, fingerprint recognition, facial recognition, palm print recognition, iris recognition are constantly being improved and used. Among them, the fingerprint scanner is a biometric technology that has been popular and widely used by people.
Fingerprint identification biometric devices can quickly and accurately obtain the user's fingerprint information, and through a series of algorithms to decode and process the necessary fingerprint image, thus providing users with a reliable, safe, fast and worry-free identity verification identification solutions.
Fingerprint identification has been developed for more than a few decades, during which wireless fingerprint scanners have emerged, and it is a great challenge to find the right fingerprint scanner for the market with a wide range of options.
In the beginning of 2023, we have prepared a fingerprint scanner shopping guide for you. We will list 10 fingerprint scanners for you, which will have an overview of the product, its advantages and disadvantages.
It's easy for you to make a better choice!
The 10 best fingerprint scanners buy guide
1. FS80H USB2.0 fingerprint scanner
The FS80H USB2.0 fingerprint scanner is one of Futronic's more famous devices.
This device uses a CMOS sensor that provides a relatively high quality fingerprint image. This device is suitable for any fingerprint identification application.
1.The ability to store the original fingerprint image in a PC with almost no distortion within 100 milliseconds
2.The fingerprint scanner has a 14 mm glass window for reliable and balanced quality
1.Fingerprint image resolution is low, only 320*480
2.Not certified by FBI
3. Device drivers can be downloaded for free, you need to pay extra to buy software to use
2. SecuGen HU20-A Hamster Pro USB Fingerprint Scanner
The Hamster Pro 20 is SecuGen's ultra-compact, high image quality USB fingerprint reader, FBI certified, FIPS 201 (PIV) and Mobile ID FAP 20 compliant. Hamster Pro 20 features a low-profile and waterproof design with the industry's most rugged and advanced optical sensor, using patented fingerprint The Hamster Pro 20 can be used for authentication, identification and verification functions, allowing your fingerprint to act like a digital password that cannot be lost, forgotten or stolen.
Water resistant
Patented technology
FAP20 certified fingerprint reader
1. requires additional purchase of authentication services
2. Fingerprint image optimization function needs to be used with special software
3. Can support most major operating systems, but not all
3. DigitalPersona 4500 Fingerprint Reader
The DigitalPersona 4500 Fingerprint Reader is a USB peripheral that works well for multiple users on individual desktops and in shared environments. Its compact design saves desktop space for businesses.
The 4500 uses optical fingerprint scanning technology, which allows for excellent image quality matching.
1. Compact and exquisite appearance
2. Excellent image quality in high definition
Need to purchase additional software that can be used with the 4500.
Often difficult to identify and read fingerprints
HF7000 is HFSecurity's patent product, the firstwireless fingerprint reader in the world. Ilt aimsto solve the connection problem in the use oftraditional fingerprint reader and make it moreconvernient to use. lt supports Android, Windows,IOS,Linux operating systems.
As one of our best selling fingerprint scanners,it has been widely used for elections, telecom,banking, e-ID, e-passport,etc,.
1. FAP10 fingerprint head authentication
2. Can reject fake fingerprints
3. Can be used with linux, windows, android, ios operating systems, and free open SDK, easy to secondary development, compatible
With integrated functions, support card reading, fingerprint
Bluetooth, USB (can support TYPE C MIRCO USB) connection, different options for your reference
Small and lightweight, built-in lithium battery, take it with you
Compared to the $40-$50 fingerprint instrument on the market, $7,000 99 is relatively expensive
5. ZK4500 Biometric Fingerprint Scanner
ZK4500 fingerprint reading is a USB fingerprint sensor for use with Digital Personas U.are.U applications and development tools. The user only needs to place his finger on the fingerprint sensor and the device automatically captures the image
High performance, maintenance free, can support any finger
The surface is scratch-proof
USB interface for high speed transmission, LED device to show the status of the device
Low resolution fingerprint image, only 280*360 pixels
Needs to be used with digital personas application
6. SecuGen Hamster Plus Fingerprint Scanner
Hamster Plus is SecuGen's popular and versatile fingerprint scanner with Auto-On™ and Smart Capture™ capabilities. The Hamster Plus features a comfortable ergonomic design and uses the industry's most rugged and advanced optical sensor with patented SEIR fingerprint biometric technology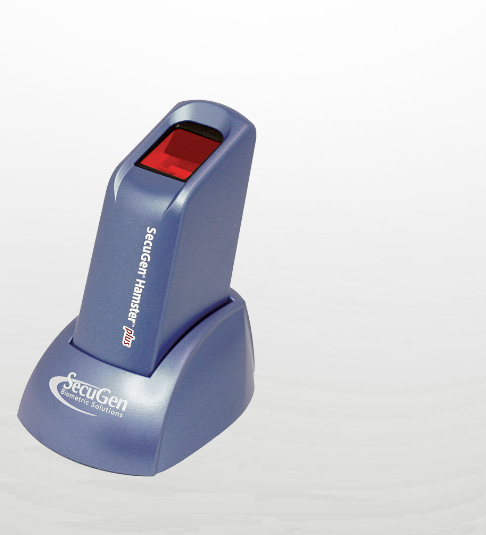 1. automatic detection technology, used with secuGen SDKs
2. Fingerprint template encryption used with SecuGen SDKs
1. Does not work well on windows 10 OS systems
Not plug and play, need to plug in the USB and then download the driver
Fingerprint image quality is low, only 260*300
7. HFOS1000 FAP20 Fingerprint Scanner Device
OS1000 FAP20 Fingerprint scanner device is an optical Fingerprint Scanner. It's a compact & portable fingerprint collection device for easy integration with new or existing applications. Powered by USB 2.0/3.0 and supports Windows, Linux and Android operating systems. Ideal for biometric authentication and personal identity verification programs
Support FAP20 Fingerprint Scanner
Optional Fingerprint Scanner
Waterproof Function
USB Interface
not linux system
not bluetooth function
8. Verifi P2000 Premium Metal Fingerprint Reader
The P2000 is a fingerprint device with a TouchChip® slide sensor for security applications. Its attractive styling and high resolution slide sensor make it an easy choice for any biometric desktop application.
1. High-resolution pixel array sensor with patented Trueprint® technology
2. Ability to use different angles of the swipe
1. Low resolution fingerprint image
2. Not plug-and-play, need to install driver before inserting
9. MFS 100 Fingerprint Scanner
Fingerprint Scanner is a biometric device for authentication and identification through fingerprint recognition module, which has excellent execution, accuracy and toughness based on fingerprint reader. Fingerprint readers or scanners are very secure and easy to use security devices, in contrast to remembering passwords which are vulnerable to fraud and difficult to remember. With a USB fingerprint scanner and our biometric software, verification, identification and authentication functions through fingerprints can be used like a computer password that cannot be misplaced, overlooked or stolen. Our STQC certified fingerprint scanner is made with a rigid optical sensor that is resistant to scratches, shocks, vibrations and electrostatic shocks.
1. Plug and Play
2. Certified
3. Live certification
1. Can only be used on windows OS
2. Installation load
HF4000 is a fingerprint scanner with micro USB and USB 2.0. HF4000 usb biometric fingerprint scanner support android,Windows,
Linux with optical sensor. It is a biometric fingerprint reader provide multiple oprating system to meet different needs.
Advantages
cheap
USB Funtion
Optional Fingerprint Scanner
Disadvantages
not fbi ceritiacted
Buying Guide. Things to Consider Before Choosing the Best Fingerprint Scanner
Finding the ideal fingerprint scanner can be very confusing, so we have prepared a detailed guide to help you choose the best one. Before making a final decision, consider the following factors.
Cost Price
Finally, consider the cost. Determine your budget and look for a device that offers good value for money. Remember, while a more expensive scanner may offer more features and higher quality, there may be better options to meet your needs. Look for a balance between features, quality and price.
If your focus is on the price aspect, then we we still need to take into account the quality of the fingerprint scanner aka quality when we start considering the price of the fingerprint scanner. After all, we don't want to spend a high price to buy a poor quality fingerprint scanner!
The quality of fingerprint scanners on the market, as with electronic products, is a difference between good and bad.
When buying a fingerprint scanner, try to buy the more recognized brands of fingerprint scanners on the market. Quality is guaranteed and service is convenient
To seek a balance between function, quality, and price
2. Fingerprint scanners functional aspects.
We are not only talking about the function of fingerprint scanner here, but also the matching, de-duplication, false recognition rate, etc. Some external features, such as waterproof, anti-scratch and other features, specific features can be based on their own needs to choose to buy
3. Fingerprint scanner after-sales service.
Fingerprint scanner after-sales service is in the process of using the fingerprint scanner, customers can use the phone, email. whatsapp, door-to-door service and other ways to solve the problem. Professional fingerprint scanner manufacturers have professional after-sales service staff.
4. Accuracy of fingerprint scanner recognition
The biometric device is mainly because of its unique characteristics, so accuracy is the preferred element.
If we purchase the fingerprint instrument can not be accurate fingerprint collection, the first step in the problem, then the next comparison, permission authentication are going to be a problem, this situation will affect the security permissions, resulting in the emergence of security loopholes, or the emergence of access rights misconfiguration, so in the purchase of fingerprint scanner, accuracy is also a preferred element
Our fingerprint scanners are purchased by the government for large government projects, such as presidential elections, telecommunications projects, vaccine registration, etc. Ensure a high degree of project accuracy
5. Fingerprint scanner acquisition and matching speed
We all know that fingerprint scanner applications are generally of high security level and require on-site identity verification. Because of this, speed is also a factor to be considered when purchasing a fingerprint scanner. This speed includes, the acquisition speed as well as the matching speed.
When we speed on the acquisition window, how long do we need to wait for the device to collect our fingerprint image, of course, the faster the better.
Secondly, when we have collected the fingerprint image, the speed of comparison recognition is also a factor, not only fast but also accurate.
The speed of both is improved at the same time, reducing the waiting time of users and greatly improving the efficiency of work.
Here is a real situation, the enterprise's fingerprint scanner takes 1 minute for each collection, 100 employees, nearly two hours of waiting, greatly extending our working time
6. Secondary compatibility
When we purchase a fingerprint scanner, we have to think about whether we need secondary development.
If I am my own use, or I do not have the ability to develop compatible, I need the supplier to buy the fingerprint scanner and I use the database, platform docking can be, I will always use, do not need to change in
If I need to do secondary development for different platforms and different data, I need to ask the supplier whether the device supports secondary development and compatibility when I buy it.
Case: Our fingerprint meter and database successfully match compatible
The following pictures
7. User-friendly interface
If our equipment needs to be purchased and put into use immediately, the features of the fingerprint scanner we purchase, as well as the interface, need to be simple and concise, including the software system in the background.
Check the manual or post a few logos in the language and the user will naturally learn to use it.
Case: Our fingerprint scanner is used in Pakistan to self-register for arc cards
The customer only needs to follow the prompts of the interface, put the finger in the collection window, the device can collect the comparison on its own. This greatly enhances the use of public areas and the time efficiency of users
Read Biometric Voting Options
Frequently Asked Questions
In order to give you a clear understanding of this topic, we have answered some frequently asked questions on the Internet.
How to identify elderly people whose fingerprints are worn out 
A: If the fingerprints of the registered person are worn out, we suggest that several fingerprints be registered at the same time, and when verifying this, you can try several fingers, generally there is always one that will be recognized.
Do fingerprints disappear?
Under normal circumstances, they do not disappear.
If you have been exposed to chemical irritants for a long time, or if your fingers are injured or burned and scar tissue is formed, your fingerprints may gradually disappear.
Also, people who have been doing handicrafts for a long time may lose their fingerprints due to long-term friction.
Is there an identical fingerprint all over the world?
1. According to modern scientific research, no two people in the world have been found to be identical in terms of fingerprint pattern, number of lines, and distribution of palm lines on the palm of the hand. Even by the time the earth has 6 billion people, to have two people with the exact same fingerprints, from a genetic and statistical analysis, on average, it will take about 6,000 years to appear once
Do babies have fingerprints?
Fingerprints begin to appear in the third or fourth month of life, and are formed by about six months. When the baby grows up, the fingerprints only grow larger and thicker, but the pattern remains the same, and each person's fingerprints are unique, just like NDAs.
Are the fingerprints of all ten fingers the same?
No, human fingerprints are determined by genes. In fact, fingerprints are part of the palm print, which is determined by genes on a macro level. This means that a person's fingerprint of a particular finger is unique in the world. Unless you are missing the gene that determines fingerprints on your chromosome, then you are a person without fingerprints (there are really such examples)