When it comes to biometrics Identification Tablet, I'm sure no one is unfamiliar with it. As the name implies, it is a modern science and technology that identifies and determines the exclusive information of each person through his or her unique biometric characteristics. The unique anti-counterfeiting and non-reproducibility of the technology has made it a popular and popular application. As a specific identification technology, it is mainly used for personnel information management and identity verification in special occasions, and can be identified anytime and anywhere without worrying about being counterfeited or replaced. The application on the handheld terminal brings the characteristics of biometric identification technology into full play.
In some large exhibitions, industry exchanges or social public activities such as concerts, charity meetings, or important national meetings, we can use Huifan intelligent handheld terminal to carry out biometric identification. Through the fingerprint, iris and other biometric identification of the participants, combined with RFID handhelds of the residents of the second generation card information reading, the personnel information management will be perfectly realized. At the same time the mobility of the handheld terminal and the speed of scanning speed, but also make it a perfect tool for mobile law enforcement, information census. More industry application cases, as in Huifan Technology www.hfsecurity.cn .
The following will specifically show you the introduction of biometric solutions
Article Contents

Biometric fingerprint tablet introduction
Biometric fingerprint tablet customization process
Biometric fingerprint tablet type
Biometric fingerprint tablet positioning
biometric fingerprint tablet competitiveness
Customized Function Selection
Successful Cases
Biometric fingerprint tablet introduction
Since each person's human physiological characteristics are unique and cannot be copied, stolen or forgotten, the use of biometric identification technology for identity determination is safe, reliable and accurate. In contrast, the common password, IC card, stripe code, magnetic card or key has many disadvantages of loss, forgetting, copying and theft. But the realization of the technology requires a specific computer or terminal equipment carrier, fixed industrial PDA carrier can not meet the needs of some mobile. For example, mobile law enforcement in the management of personnel, security clearance in the collection of information, have a variety of mobile needs, handheld terminals just to achieve the application. The use of RFID handheld machine handheld terminal, in the mobile information collection and identification of personnel will become simple and efficient.
Chongqing Huifan Technology Co., Ltd. according to the current stage of biometric application scenario needs, combined with handheld terminal hardware carrying technology applications, to create professional biometric intelligent terminal equipment, to become a mobile identification information data collector.
Biometric fingerprint tablet customization process

Step 1: The customer receives the demand internally, Huifan Technology receives the customer's demand about the biometric tablet project.
Step 2: Confirm the customer's requirementStep 3: After customer's system requirements are confirmed
Step 4: Start to design structure drawing, R&D, including appearance design, 3d printing, debugging parameters, hardware
Step 5: Design the prototype
Step 6: Modification according to feedback
Step 7: Open mold production
Step 8: Production verification test
Biometric identification fingerprint tablet type

Iris fingerprint tablet
5″ fingerprint tablet
7 inch fingerprint tablet
8 inch fingerprint tablet
Passport fingerprint tablet
NFC fingerprint tablet
Fingerprint tablet printing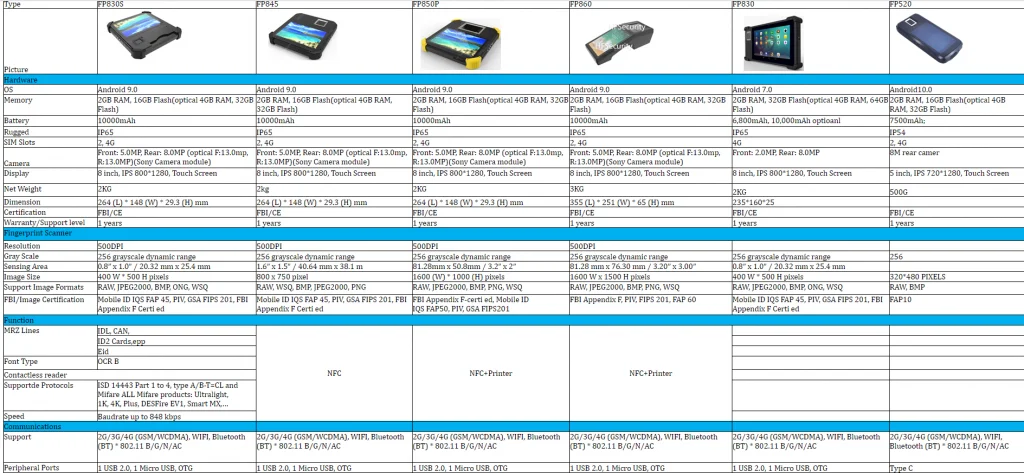 Biometric identification fingerprint tablet positioning

Multifunctional industrial tablet, clear vision, long life, rich functions, make mobile office more easily
Wider visual experience, 8″ / 5″ / 7″ screen, data icons at a glance

8-inch IPS high-definition screen, so that the work information is perfectly presented, no need to zoom in and drag, detailed data at a glance. Say goodbye to fatigue and inefficient work efficiency.

Support multi-touch, wet hand, glove operation, tough screen, indoor and outdoor use without worry.
The screen cover is made of glass, which has excellent anti-damage performance, scratch-resistant, wear-resistant, tough and reliable, and can provide better protection for the body. And high optical clarity, smooth feel, sensitive touch, multi-touch support, wet hands, gloves operation, excellent operational performance to adapt to a wider range of use environment

Data acquisition, comprehensive functions, you need are here
Comprehensive functions, what you need are here

High barcode scanning
Support equipped with industry-leading scanning engine, scanning performance is strong, can accurately and quickly identify and read a variety of 1D code, 2D code. Wide scanning range and scanning distance make the actual work of scanning business more flexible, staff do not need to deliberately align the barcode, or far or near a sweep can be accurately read, more efficient and convenient
High-performance UHF reading and writing
Using UHF module, perfectly compatible with the equipment, to provide excellent scanning performance, can choose a variety of working frequency band, can be compatible with the recognition of a variety of electronic tags on the market, recognition quickly, accurate college, to meet the needs of multi-industry applications, significantly enhance the efficiency of work
NFC
With NFC read/write function, supporting ISO/IEC 18092 and ISO/ IEC 21481 protocols, it can be used for communication and data transmission between close-range devices, with high security, stable and fast connection, low power consumption, and can meet the needs of user authentication, electronic payment and other fields.
Fingerprint recognition

Optical fingerprint / capacitive fingerprint
It supports the application of fingerprint matching technology, which can accurately and quickly collect, identify and verify the user's fingerprint information, collect fingerprint images with high resolution, have super high anti-counterfeit performance, strong security, and can effectively eliminate fake fingerprints. At the same time, the anti-interference ability is strong, and the use is more flexible and convenient.
PSAM
Optional PSAM card slot, support ISO7816 standard, support a variety of security access methods and permissions, provide a higher level of security protection, stable and reliable, can meet the higher security needs of industry applications
Infrared scanning
Can also integrate infrared scanning function, can accurately read information
Precise iris recognition
Industry-leading iris recognition technology with rapid recognition, low false read rate, FAR ≤ 1/10000000 accuracy, and safe and reliable to meet the needs of applications with high security level of identity authentication
13 million HD camera
Outstanding 13 megapixel auto-focus color camera + fill light, so you can easily capture high quality images, intelligent operation, various modes, flexible selection, even in the dark environment can help you capture clear impact
Performance
High-intensity work tasks, easy to cope with
Efficient office, worry-free battery life
8000mAh high-capacity battery, long life
Standard 8000mAh high-density rechargeable lithium polymer battery, fast charging speed, and support the system for intelligent power saving management, all-day high-intensity continuous work use worry-free
High performance
Industrial and protective performance

IP65 high protection grade
With IP65 high protection registration, sealed specifications, can be in the wind, dust and water in the normal operation of the environment, super protection, reliable and durable, can meet a variety of harsh environmental conditions of use

1.5m drop resistance
Within the operating temperature range, all 6 sides can withstand multiple drops from 1.5 meters to the marble floor, and after 1000 consecutive 1.6 feet/0.5 meters tumbling, still stable operation, shock and fall resistance
Biometric Identification fingerprint tablet competitiveness
Team R&D capability
Market acumen
Logistics timeliness
After-sales guarantee
Product Assurance
Certificate, Development, Assembly, R&D
Biometric fingerprint tablet configuration options
Fingerprint Scanner , such as optional , capacitive , fap10, fap20, fap30, fap45, fap50 fingerprint sensor
Camera, such brand, like sony camera, you choose 2M, 5M, 13MP
NFC, Password, IRIS, Printer
Software customization
Hardware customization
Logo customization
Color customization
Packaging customization
Biometric Identification Tablet Success Stories