FP830S 8 inch Biometric Tablet
Accuracy, Reliability, Versatility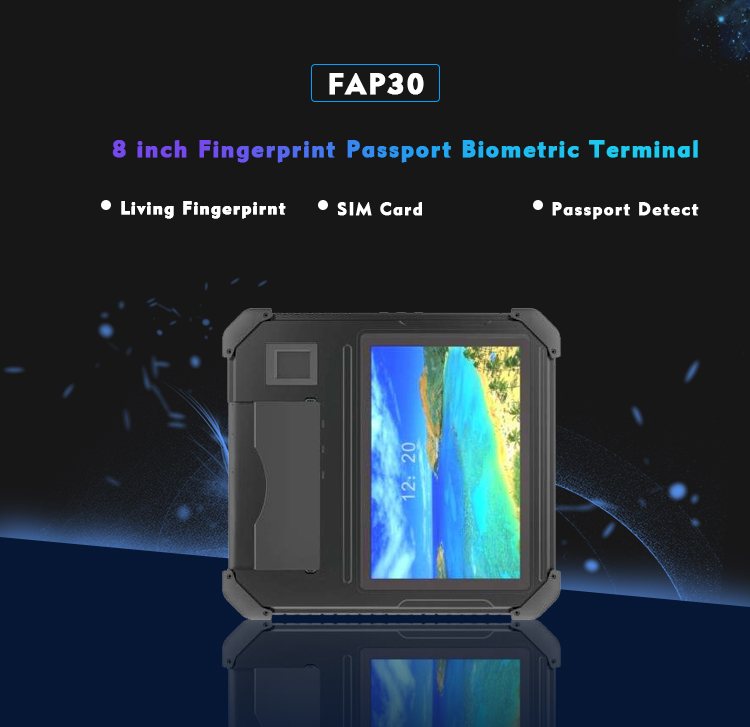 Android 7 Biometric Tablet
FP830S 8 inch Android 7 Biometric Tablet. This device is perfect for businesses and organizations that require advanced security features to protect sensitive data and assets.Biometric Tablet. This device is perfect for businesses and organizations that require advanced security features to
FAP30 Fingerprint Scanner
FP830 8 8 inch android biometric tablet terminal device, with fap30 fingerprint scanner,efficient,security;
400 W * 500 H pixels
FAP30 powerful function preview show more powerful such as:
fingerprint  recognition;
communiction card;
large touche screen;
passport identification;
HD Camera;
FAP30 8.0 inch high definition touch screen displays high-definition data for you not blurry
FAP30 front 5 megapixels,rear 8 megapixels(optional rear/front 13megapixels)
FAP30 adopts a fast intelligentnational identification system
HFSECURITY fingerprint scanner offers an unparalleled level of security and convenience for a wide range of applications. With its advanced features and compatibility with multiple operating systems, it is a versatile and essential tool for any organization or individual who values security and privacy.
OS
Android 9.0
Memory
2GB RAM, 16GB Flash(optical 4GB RAM, 32GB Flash)
Battery
10000mAh
Rugged
IP65
SIM Slots
2, 4G
Camera
Front: 5.0MP, Rear: 8.0MP (optical F:13.0mp, R:13.0MP)(Sony Camera module)
Display
8 inch, IPS 800*1280, Touch Screen
Net Weight
2KG
Dimension
264 (L) * 148 (W) * 29.3 (H) mm
Certification
FBI/CE
Warranty/Support level
1 years
Fingerprint Scanner
Resolution
500DPI
Gray Scale
256 grayscale dynamic range
Sensing Area
0.8" x 1.0" / 20.32 mm x 25.4 mm
Image Size
400 W * 500 H pixels
Support Image Formats
RAW, JPEG2000, BMP, ONG, WSQ
FBI/Image Certification
Mobile ID IQS FAP 45, PIV, GSA FIPS 201, FBI Appendix F Certi ed
Function
MRZ Lines
IDL, CAN, ID2 Cards,epp,Eid
Font Type
OCR B
Contactless reader
Supportde Protocols
ISD 14443 Part 1 to 4, type A/B-T=CL and Mifare ALL Mifare products: Ultralight,
1K, 4K, Plus, DESFire EV1, Smart MX,…
Speed
Baudrate up to 848 kbps
Communications
Support
2G/3G/4G (GSM/WCDMA), WIFI, Bluetooth (BT) * 802.11 B/G/N/AC
Peripheral Ports
1 USB 2.0, 1 Micro USB, OTG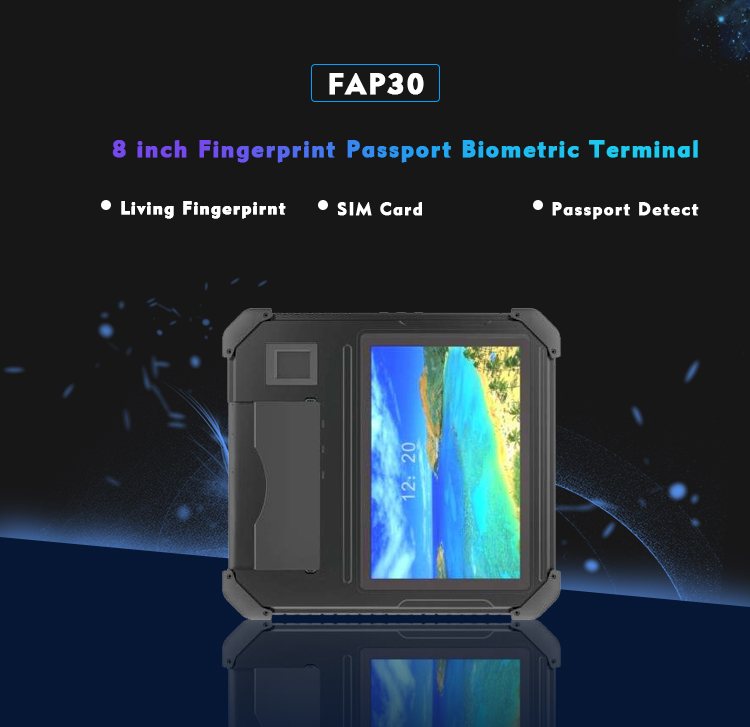 FP830S Biometric terminal PRODUCT FEATURES
Chongqing Huifan Technology Co., Ltd. is a Chinese company that provides biometric solutions and related technologies. As a biometric solution provider, they offer a range of products and services related to identity verification and access control.

We products, services, and technologies. , it is common for companies in the biometric solutions industry to offer a variety of biometric technologies, such as fingerprint recognition, iris recognition, facial recognition, voice recognition, and more.

HFSECURITY offer solutions for specific industries or applications, such as time and attendance tracking, payment authentication, personal identification, and others.

If you have any specific questions about Chongqing Huifan Technology Co., Ltd.,you can visiting our official website or contacting us directly for more information.
Not sure if we are a good match for you or which style you want to buy? We can send your more application. For more information, get in touch.
Not sure if we are a good match for you or which style you want to buy? Free trial software are available. For more information, get in touch.
Download Fingerprint Scanner Brochure